Danielle Labbé works for the creation of public spaces in Vietnam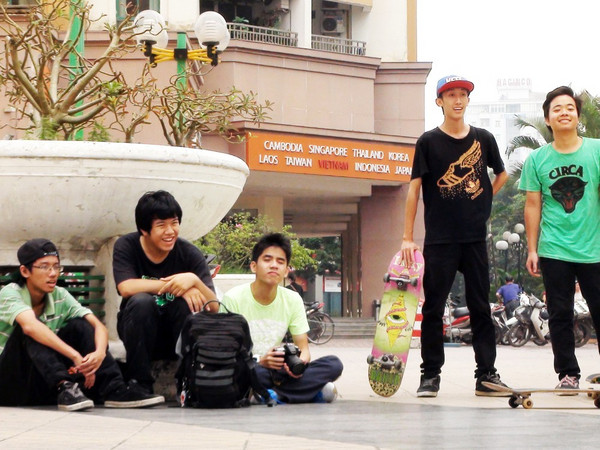 For the past twenty years, Danielle Labbé, associate professor at the School of Urban Planning and Landscape Architecture of the Faculty of Environmental Design, has been leading numerous international cooperation initiatives in Vietnam.
It all started with her undergraduate student exchange there, which resulted in the country becoming her main research field. Danielle Labbé is currently working with the Vietnamese office of the NGO HealthBridge by way of the Liveable Cities program, which aims to promote more sustainable cities focused on improving quality of life.
A stimulating and productive partnership
This collaboration with HealthBridge began in 2014. Danielle Labbé first worked for two years on a development project with a focus on youth and public spaces supported by the Social Sciences and Humanities Research Council of Canada. That project led to $2.5M in funding for partnership research on the same theme, but extended to four cities, namely Montreal, Hanoi, Paris, and Mexico City. Danielle Labbé has been coordinating and managing all activities in Hanoi since 2017.At the same time, she is conducting research to explore the policies that mobilize the private sector in the construction and management of public spaces in cities in Vietnam. Her research aims to identify the challenges of this transfer of responsibility to the private sector in the construction of public spaces, and to question the quality of the spaces thus produced.
Tools to promote intercultural communication
The cross-cultural context and language barrier can create challenges at certain levels in the projects, and the results also have to be made accessible and understandable to the target audiences, i.e. the Vietnamese population and the decision-makers involved in urban planning and development policies. Danielle Labbé has therefore put in place several tools to communicate effectively and make information accessible to all concerned. For example, as part of the research conducted with youth, an interactive website translated into English and Vietnamese was created. Documentaries available on several digital platforms were also produced, in addition to media campaigns disseminated via television, radio, and local newspapers.
Strong student involvement in research teams
To manage all this work, Professor Labbé normally spends part of the year in Vietnam and the other part in Quebec, where she coordinates the activities of her remote team. There, she recruits master's and PhD researchers who contribute substantially to the progress of the various research projects. In return, HealthBridge regularly hosts UdeM master's students as research trainees. These students acquire skills in a unique international and intercultural context. They help provide evidence to guide public decisions regarding the development of cities in Vietnam, based on principles of sustainable development, inclusiveness, and environmental sustainability.